Lately I have been asked some questions pertaining to dog ownership.  "How did you go from being afraid of dogs to being the crazy dog lady?" is chief among them, but that is a story for another day.
Today I want to address the questions people ask me when they are contemplating dog adoption.  Admittedly I do not have a lifetime of experience with this, which I actually think makes me a good candidate to offer advice.  It was only a year ago that I started thinking about getting a puppy, so all of the fears and concerns are still fresh in my mind.  Furthermore, I sort of dove in head first in terms of addressing the issues that arise if you are responsibly taking care of your dog.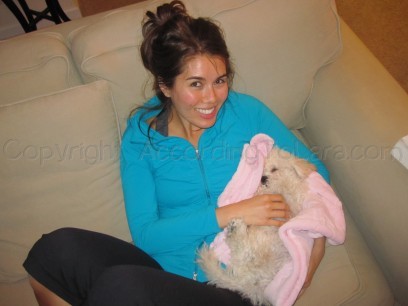 Doggie Ownership 101, from a Rookie Puppy Parent (take it for what it's worth, or for what it's not)
Part I: Costs to Consider
In my opinion, the number one thing you should consider about dog ownership is whether or not you can financially handle it.  Proper care of your dog will likely be more expensive than you think it will be–especially the initial set up, if you are raising the dog from puppyhood, or if the dog has special needs.
Non-negotiable costs: these are pretty much implicit with responsible dog ownership, even if you are not interested in getting fancy.
The adoption fee itself.  This has a broad range, but even a dog adopted from a shelter or rescue group will cost you a few hundred dollars, or several thousand if you are looking into buying from a breeder (another subject for another day).
Vet visits.  Regular exams alone are pricey, let alone the "emergency" visits if you are a paranoid pet parent like I am.  Also under this category: vaccinations and spay/neuter surgery.
Registration fees.  Check with your local animal control, but I'm pretty sure it's mandatory to register your pet annually.
Gear.   You can stay basic with this or get fancy.  The bare necessities will include: collar; leash; ID tag; water and food bowls; a bed and/or crate; treats and chews; and some toys.
Food.  High quality pet food is an investment and a cost that should be considered.  Also, while most major pet stores have a good return policy, there may still also be a cost in the form of wasted food while you try to find the brand and type of food that suits your dog best.
Flea and heartworm medication.  This is arguably necessary, as I know some folks who choose not to use these products.
Additional costs: may or may not apply depending on your dog's needs and how much you want to spoil them.
Pet insurance.  I recommend it.  It has been worth it for us by a long shot.  Our plan is about $30 a month, per dog.
Emergencies.  Luckily we haven't had any instances when we need to consult a vet outside of normal business hours, but I understand it can be very expensive, hence the insurance.
Microchipping.   This is a one-time fee for implantation and then to register the chip.
For renters: rental deposit and pet rent.  Most property managers will require a separate pet deposit.  Many charge a monthly "pet rent," per animal.
Dental work.  This is borderline optional, really.  From what I've read, you should have your dog's teeth professionally cleaned once a year after the first year (small breeds) or the second year (large breeds).  If you don't do the regular maintenance, it could result in much bigger bills later.
Grooming.  This is highly dependent on the breed of your pup.  I have poodles, which means we go in about once a month.  This runs us about $50 per pup.
Training classes.  Highly recommended, especially if you are raising a puppy.  We did a basic "Puppy 1" class with Lulu.  This cost $165 for a five week course.  
Daycare/dog walker/dog boarding.  Depending on your lifestyle, this may not be negotiable.  When Matthew and I were both working outside the house, we had to hire a dog walker on days we couldn't make it home at lunch.  Alternatively, we would place them in doggie daycare for the day so they received socialization as well as exercise.  In the Bay Area, we paid $30 for a 30-45 minute walk for two pups.  Daycare at Petsmart was $40 for both.
Gear.  Sure, some gear is mandatory, but we purchased a ton of stuff that was either useful or just plain fun.  Some examples: blankets, harnesses, play pens, puppy stairs for the bed, grooming tools, dietary supplements, sofa and car seat protectors, car seat belts, toys and games, travel bowls, training bells, potty pads…the list goes on, and on, and on.
Admittedly I went way overboard with "the extras" for Lulu and Pippa.  This doesn't mean that responsible dog ownership is cheap.  Even in the best situations, there will be substantial and unexpected costs.  But I promise you, it is so worth it.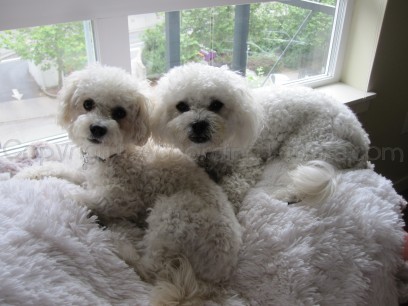 Stay tuned for Part II!