My love for autumn extends well past an adoration of fuzzy sweaters, blazing fires, and crisp notebook paper.  It brings me back to designing my own Halloween costumes ("No Mom, Cinderella wore glass slippers…these are white!"), raking leaves in my grandparents' front yard (at $1 per bag…I think I was underselling myself), and the smell of vegetables roasting in my mom's oven.  Specifically, the smell of squash.
My latest favorite is spaghetti squash.  When I first "discovered" this glorious gourd, I read up on various cooking methods.  While there is nothing quite like the taste of a roast squash, it can take well over an hour to do so and I don't always have that kind of time.  For a quick fix, this is how I cook spaghetti squash without even turning on the oven.
Start by rinsing the squash and cutting it length-wise in half.  If you are superwoman, you can try cutting it yourself, but I usually delegate this task to someone else because we have crappy knives and I would prefer to keep both of my hands.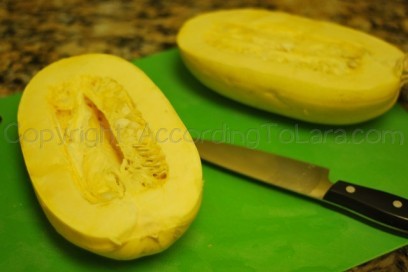 Note:  I have taken to only cooking half of the squash at a time.  This if for three reasons: 1) It cooks faster this way; 2)  Half of a squash is my ideal serving size anyway; 3) I have found that raw spaghetti squash keeps longer than cooked so it all works out.
Place half of the squash in a shallow glass dish in about two inches of water.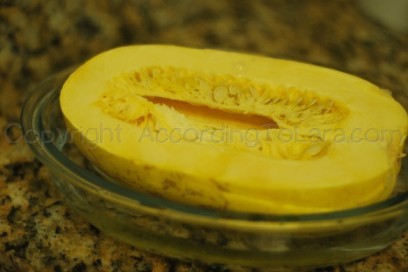 Nuke (uncovered) for 15 minutes.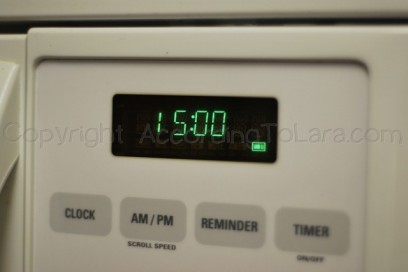 Cool slightly before scooping out the seeds (Note: Length of cooling will depend on hunger level.)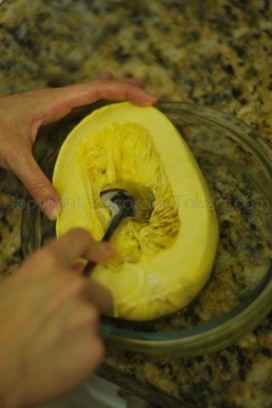 Using a fork, pull the "spaghetti" strands away from the skin.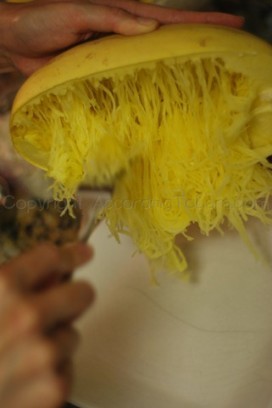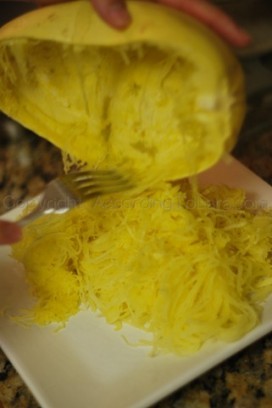 Voila!  It really is that easy.  I am still hooked on red sauces with this squash, the latest bowl being dished up with a serving of Ellie Krieger's Baked Shrimp with Tomatoes and Feta and zucchini (yes, more squash).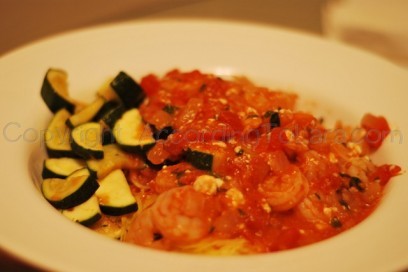 Happy Halloween!