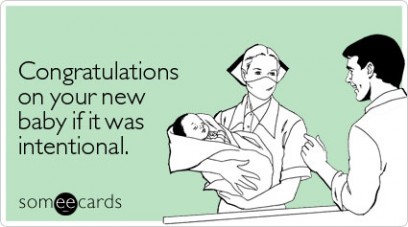 1.  "Will you be rehoming your dogs?"  This is the one of the most ridiculous questions I have yet to hear.  Maybe this isn't true for everyone, but our dogs are part of our family.  Unlike the rest of our family, they are members we actually got to choose.  I am doing my best to prepare for the challenges of introducing two spoiled dogs to a new baby.  Unless one of them somehow poses a serious health or safety risk, they're not going anywhere.
2. "Was this planned?"  I can only assume people who ask this question secretly want to hear some juicy tale of a surprise pregnancy.  Nevertheless, I am always tempted to answer with an overly detailed account of the truth.  Something along the lines of:  "Actually, for X months, I closely charted my menstrual cycle, peed on ovulation sticks, and had lots of unprotected sex with my husband around my ovulation date."  Or perhaps, "Well, I've been having sex for quite a few years now and managed to evade getting knocked up.  What do you think?"  
…Sometimes I'm a believer that inappropriate questions deserve inappropriate answers.
3.  "I hope you're enjoying your time alone/time together/time to travel/so-called-life now, because those days are gone after you have kids."  Look, I'm very aware of the fact that my life is about to be turned upside down, put into a blender, turned inside out, and reassembled again for approximately 18 years after I give birth.  But the doom and gloom that people insist on warning me about is obnoxious, and frankly makes me question the parent more than parenthood itself.  I refuse to believe that having children will be the end of all things fun and exciting.  In fact, I like to believe it's the beginning of all things fun and exciting.  So just let the foolish pregnant lady have her dreams and shut up.
4.  "Get lots of sleep now.  You'll need it once the baby is born."  Again with the doom and gloom.  Plus, did I miss something?  Can you save up sleep on a debit card and spend the credits at a later date?  This advice makes no sense to me.
5.  "Your bump is so small/so big!"  I get that by saying my "bump" is small, you're trying to be nice by acting as though I haven't put on a ton of weight (my interpretation: so I normally look this huge?).  I also get that by saying my bump is big, you're trying to compliment my mad baby-growing skillz (my interpretation:  so I'm really as huge as I feel?).  But really, as someone who is sensitive about weight and size issues to begin with, I don't want to hear either.  Just lie completely and tell me I look great.