When I was 25 years old, I believed I was invincible.  I lived in a Bay Area apartment as a newlywed, and took the train every day to work at my first big-girl job in the city.  I wore Anne Taylor dresses and drank venti soy lattes for breakfast.  I took barre classes, ate $18 salads for lunch, and maintained what I now look back on as a pretty decent figure.  I went on business trips to places like New York City and San Diego, where men would offer to buy me drinks and my colleagues and I would smirk when we stumbled back to our hotel at night and tired-looking women would stick their heads out from their rooms to ask us to be quiet because their kids were sleeping.
Three years later, I sit and write this post with dried up banana on my elastic-waist pants.  A video monitor is on next to my keyboard, so that as I type I can listen for a cry and watch for a limb getting stuck between the crib rails.  Beside my bed lies a stack of books.  They are not about highly effective habits or how to be naturally thin, but about sleep cycles, infant sign language, and the Montessori teaching philosophy.  Tonight, I will be woken several times from my slumber.  Tomorrow I will forgo makeup and the gym in favor of sunscreen and the kiddie pool.  The lady who lunched can now be found on a playdate at the park.  And the closest I come to sipping martinis on someone else's dime is the free juice box they hand out at the end of mommy & me class.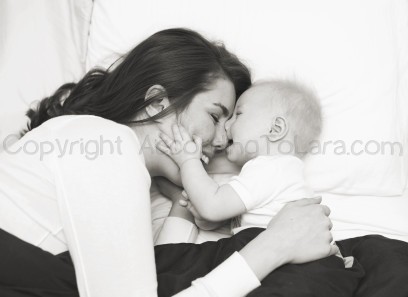 Photo courtesy of Aspin Photography
I do this for a twenty-pound creature who was but a twinkle in my eye at 25.  He existed only as sleep I didn't want to lose, as weight I was afraid to gain, and as money I couldn't afford to forfeit.
When I finally decided I was ready to do so, my world went from black and white to color.  And while some might look at me and say I have clearly lost myself to motherhood, I can't help but feel that I have found myself.
I don't want to get into issues of feminism and working moms and stay at home moms or anything like that today.  What I am about to write is truly from my heart and head, and I want to express those feelings with absolutely zero judgment about anyone else's decisions.  And that is:  It was a conscious, deliberate, long-planned decision to spend this time 100% dedicated to my son.   To return to work after his birth was a foreign thought to me; it felt like I would be reversing my life path to a world that existed before he did, and I did not want to return to that world.  Not yet. So for now, I wear this badge proudly and gratefully.  My wish is that every woman could be as contented with her circumstances and decisions as I am today, whatever hers may be.
One day in the not-too-distant future, G won't need me like he does now.  At that point, when we both feel ready, I will look for something new to fill my days and my pocketbook.  Maybe I'll dust off my high heels, maybe I won't.  As someone without a strongly established career, my next gig could really be anything.  And while that's an exciting thought, I don't for one second kid myself: being this child's mother is my life's greatest adventure.
This is the part of several posts written in reflection of Baby's First Year.  Read about one year of breastfeeding here.