If you ask my husband where he grew up, he will, without fail, stumble on his words a little as he tries to give an answer. It's not because he's inarticulate; it's because he could rival any army brat with the number of places he called home as a child. Between three countries, he lived in several cities in at least nine different homes.  Now as an adult, he's just never quite sure how to answer the question:  where is "home?"
My father still lives in the home in which I was raised. The house that built me, as the song goes, is one that holds my entire childhood in its walls. It has seen a couple fall in and out of love. It has seen five children raised. It has seen countless school projects, birthday parties, Christmas trees, piano lessons, and family pets.  Even as a grown adult living with my own family in another state, that house is still my anchor.
Before Gray was born, we decided it was very important to us as a family not to move around all the time.  We want our child(ren?) to know the comforts and stability of a stable, long-term home.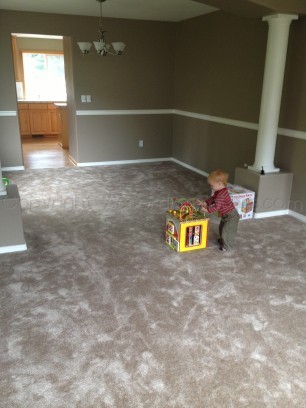 This month, we signed the papers on our first home purchase.  Among a myriad of feelings, I felt a sense of relief.  Relief because I've moved nearly every year since graduating from high school ten years ago.  Relief because, hopefully, this is the beginning of our family putting down some real roots.
The home I grew up in?  My parents bought it when I was 13 months old…the exact age my baby is now.  In a small and odd way, it feels like I've come full circle.
We do hope to move one more time before Gray starts school properly, but that is several years away.  For now, the three of us all finally have a place to really call home.