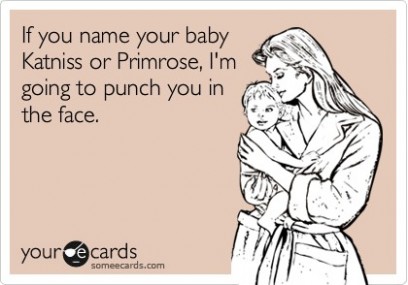 I'm one of those women that has been dreaming of baby names since I was a little girl playing MASH at slumber parties.  I always found girl names to be much easier (undoubtedly some sort of built-in gender bias), and my list of names for boys was always limited to whatever boy I had a crush on at the time.
Many years later, I met my husband and fell in love, both with him, and his middle name.  When I became pregnant and we learned our baby was a boy, this was of course, the first name we thought of.  It seemed like the natural option.  (Spoiler: it's the name we ultimately chose.)

But that's the thing about me.  I like options.  And I like making things more complicated than they should be.  And I very much liked the idea of meeting our baby before we named him.  Something about naming this child, who would be so unique and special in every way, a name that I had carried in my pocket for a decade, seemed…not very special or unique.
So we went through my entire pregnancy considering every boy name under the sun, refusing to refer to the baby by the name that we were both 90% sure we wanted to use.
And so The Name Wars began, mostly under a false pretense. We agreed to start with a blank slate.  There were rules, of course.  Any name you came up with had to have at least two cool people associated with it.  If the other spouse could come up with two douchebags who also shared the name, it was out.
The Name Wars were really just one long, continuous discussion that would spontaneously begin and end as we lived our lives for nine long months.
It would usually go something like this:  I like the name Bruce, so I cite Willis and Wayne.  Matthew reminds me that Bruce Wayne is a fictional character and therefore does not count. "But the same logic didn't apply when you liked James after James Bond," I argue.
Matthew sighs.  "James Bond is not just a fictional character," he says.  "He's a cultural icon."  He is about to go on, and I know I need to change the subject fast.
I say I like Pablo. "No one is named Pablo," says Matthew, as though I just suggested naming our son Speakerphone.
"Picasso?  Neruda?"  I retort.  Did I really marry this person? 
"It sounds terrible with our last name," he adds.  At this, I concede.
"Charles?"  he counters.
"Veto," I say.  "Prince and Manson."
For a while I try to sell him on Carter, when he reminds me that my dad will never forgive us if we name his first grandchild after a Democrat.
"Michael," I suggest, citing Douglas and J. Fox.
"Since when did Michael Douglas become cool?" Matthew asks.
"Since he married Catherine Zeta-Jones," I quip.  BOOM.
Then I remember one of the names from my original list: Rhett. "Name one famous person named Rhett," says Matthew.
"RHETT BUTLER?" I ask loudly.
"Who?"
Oh. My. God.  I married someone who's never seen Gone With the Wind?
"Even if this Rhett Butler character is cool, he's only one person." I visibly cringe as he says this.  Even if if Rhett Butler is cool?
"Rhett Butler is cool enough to count as ten people.  Rhett Butler is the ultimate cool guy." I resolve to make him watch the movie that night, but I cannot sell him on the name.
I start naming more "B" names, and the issue of alliteration arises.  It's sounds feminine, fears Matthew.  "Matthew McConaughey?  Walt Whitman?" I pose.
"Marilyn Manson?  Fred Flinstone?"
This isn't going anywhere.
In the end, Bradley is the only other name we can agree on.  Pitt and Cooper immediately come to mind.  We're country music fans, so Paisley is also referenced.  We cannot think of a single douchebag named Bradley.
Then, our son was born.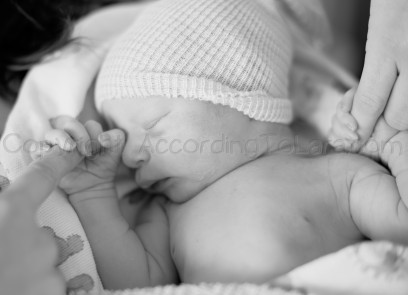 …and he looked just like my husband.
We didn't decide right away.  We held him close.  We called our parents.  I ate a hamburger and fries.
After a few hours, a nurse asked us if he had a name.  And I looked at my husband, and I looked at my baby, and I knew.  I knew the name that I had carried in my pocket for ten years was not just a name.  It was my son's name.  It was meant for him, the little boy I held in my arms.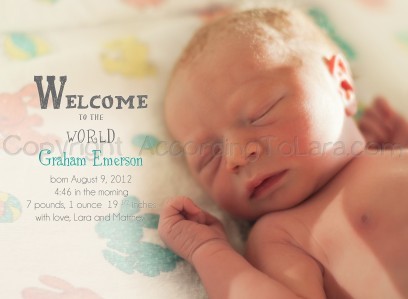 His middle name is after my brother.
Don't ask me what we would ever name a second kid.  We're all out of names.
On the blog, I've been calling him G, not because his name is a secret, but because I don't want the poor kid to have a searchable online history before he is out of diapers.  In real life, I often call him Gray, so I think I'll make that his new blog nickname as well.
Though my life didn't turn out exactly the way MASH predicted, I did end up naming my son after the guy I have a crush on.  Some things are just meant to be.