I am traveling to London this week to attend my sister-in-law's wedding.  After many long-haul and a few nightmarish travel journeys, there are a few set "rules," I pretty much always stick to en route.  I hope these don't come off too righteous or obnoxious.  They are as much of a reminder for myself as they are for anyone else who is interested in a smoother journey!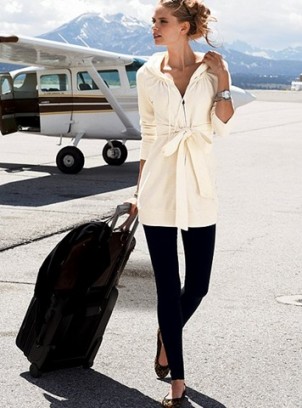 Leave the pepper spray at home and do not attempt to hide it in your luggage.  The big scary security men will find it.  Don't ask me how I know.
Wear comfortable clothes!  There have been a few times when I have dressed to impress rather than for comfort and I have regretted it.  I've always liked the outfit pictured above from Victoria's Secret.  Way back when, I ordered that sweater and I wear it ALL the time.  Lesson: you can still look cute and be comfortable.  There is nothing worse than sitting on a plane for many hours having to adjust straps or waistbands.  (Warning: buying clothes from Victoria's Secret will not instantly make you look like the model in the photo.)
Buy a huge bottle of water straight after going through security.  How much water do you typically drink over a 10-hour period?  A lot more than those little airplane cups every two or three hours!  Yikes.
I lied in Rule #2.  There is something worse than being in uncomfortable clothes, and that is being hungry and stuck on a plane.  I've been there, too.  So now I bring snacks.  LOTS of snacks.  Enough to make a meal (or two) if need be, because sometimes plane food is just intolerable any way you slice it.
Consider arranging a "special meal" choice.  Even if you are dedicated to the rule of bringing your own food, there will likely be some point in life when you have little choice but to eat plane food.  I read somewhere to always order the low-fat option.  I tried it for the first time, very nervous that "low fat" would just equal a pile of bread or pasta.  I was pleasantly surprised and always order it now.  It's simple switches like fruit for the breakfast plate instead of that scary cheese roll.
Avoid alcohol like the plague.  Exception: on the rare occasion when I get to fly Business or First Class, I definitely accept the complimentary champagne.  Other than that, it's bad news.  Don't ask me how I know.
Plane accessories: sleep mask (you might be seated next to someone who wants to read the whole flight!); earplugs (aka screaming baby blockers); socks (I wear these old-lady flying socks to help circulation, but anything to keep your feet warm); and reading material.  I do not recommend any action novels that start with plane crashes.  Don't ask me how I know.
Do not stop yourself from eating when you are hungry simply because it is not a scheduled mealtime.  In the past, I tried to eat only at set times while being awake for a 30+hours, and it was hell.  I was starving, cranky and in tears halfway there.
Sleep whenever you can.  I do not subscribe to the "let's stay up all night so I can sleep on the plane," theory.  Most people don't get quality sleep on a plane, anyway.  Sleep…whenever and wherever you are able.  Your body's clock will adjust quicker than you think.
When you aren't sleeping, stretch.  Walk around.  I do stretches in the galley of the plane and roll my ankles and wrists in my seat.  I've walked circles around airports, and up and down the aisles of a 747.
Lastly, I always try to remember to be kind.  I have a theory that traveling brings out the absolute worse in human nature.  Pushing in airports, screaming at flight attendants…I have witnessed crazy behavior.  More than usual, I try to be extra forgiving while traveling.  Sometimes it's hard and I am tempted to become the crazy person.  I will not.  I will breathe.
What travel rules do you live by?