My dad turns 60 next week.  I sent a card but didn't quite know what to do for a gift, after suggesting several vacation destinations that are, admittedly, merely places I selfishly want to visit.
My dad hasn't always been the dad I have often wished him to be.  Father of the Bride he was not. "Daddy's little girl" isn't how anyone would describe us, mainly because my dad is a man of few words and controlled emotion.  Friends have compared him to a fortune cookie, however, because when he does speak, it is usually something infinitely wise and philosophical.  I sometimes struggle to apply what he says to the context of any given situation, and many of his lessons have taken years for me to decipher.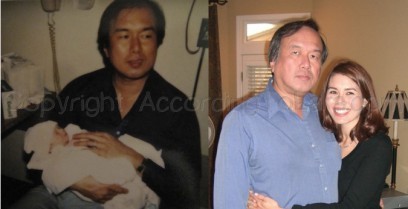 I figure the best gift I can give my dad (besides a vacation to Bora Bora…hint hint), would be to let him know that his wisdom has been shared, that some of it has "stuck" to the mind of his sometimes slow, often challenging, always questioning daughter.
Don't be afraid of the deep end.  I was a fearful child.  Even after learning to swim, I was convinced I had to stay in the shallow end, so I could find my feet if ever I needed.  Dad told me, "If you know how to swim in the shallow end, you know how to swim in the deep end."  I've applied this lesson outside of the pool: if I know something, I know it–regardless of what might be intimidating circumstances.
Time is your only obstacle.  As I get older, I understand what he means: time is the most coveted of life's gifts, because we have no control over its passing.  My abilities or my inabilities cannot hold me back from something I want to accomplish, if only I use the time I am given.
Don't assume anyone is smarter than you.  I think my dad still harbors dreams of me being famous, because he thinks this is what I want. "Those people aren't smarter than you, Lara, they just went for it, and you haven't."  I still don't think I have fully grasped this one.  I have a tendency to play down my own capabilities, but I "hear" him say this to me all the time.
You must "learn to fish".  You know the old saying about teaching a man to fish?  To my dad, this isn't an optional thing.  The man has never bailed me out of anything (including overdue sorority fees, or worse, weeks in college when I had $20 on which to feed myself).  At the time I believed these were acts of great cruelty, but in reflection, I know they were acts of great love.  It must have been the hardest thing in the world for him to say no, but he firmly believed that I must learn to fish.
Yes, you can.  "I can't drive a stick shift." "Yes, you can."  "I can't pass statistics." "Yes, you can." "I can't find a job." "Yes, you can."  Maybe it's been possible for my dad to let me learn to fish because he believes in me so much.  He has been my silent cheerleader: quietly sitting on the sidelines, but never, ever missing a game.
Most of all, my dad has taught me that people don't always love you the way you think you want them to, but if you're lucky, as I have been, they love you the best way they know how…which is likely better.  Like you, like me, my dad is imperfect, but decidedly irreplaceable.
Happy 60th Birthday, Dad.  I love you.