One thing that has surprised me about pregnancy and preparing for a baby is the sheer amount of stuff you supposedly need.  I'm not really one for accumulating lots of stuff, but there are a few items I am excited to purchase.  In the process of researching what we need and what we don't, I've found a few luxurious gems I would love to own (necessity be damned!).  Some of these are more affordable than others.  Still, it's fun to dream.
Keungzai's Ultra Soft Drape Front Maternity Dress:  Keungzai is a beautiful online maternity boutique that I recently discovered thanks to my sister-in-law, who actually helped with the design and fit of the line in London.  Pretty cool, huh?  I basically want everything on this website.  In particular, this drape dress looks so comfortable and chic.  Michele at Keungzai is hooking all of us up with a 10% discount (they ship around the world even though they are London-based!).  Just enter ILoveKZ10 at checkout until the end of the month!
Kate Spade "Stevie" Baby Bag:  I remember seeing a Black Friday deal for a version of this bag back in November…about two weeks before I found out I was pregnant.  Timing is everything, no?
The Origami Stroller:  I first read about this stroller on LilSugar.  Here's what they said:  "With a built-in generator that recharges as the wheels move, it is a battery-operated pushchair that folds itself (really! Just push a button and it folds!). The generator also powers daytime running lights that provide safety both day and night, as well as an LED screen that shows temperature, the distance you've walked that day, and if your tot is seated properly. And for connected moms, there's an optional cell phone charger to ensure she never loses touch with the world around her!"  Wow.  This luxe ride has an $850 price tag, so we won't be the lucky pushers.  We're likely to go with a BOB (still not cheap, but not nearly this pricey).
Pottery Barn Kids Comfort Grand Swivel Glider & Ottoman:  While playing pretend at our local Pottery Barn, we completely fell in love with this large, comfortable, stylish glider.  I know many don't consider Pottery Barn furniture to be luxurious, but even on sale and with a modest fabric choice, this lovely piece would cost us a good $2,000.  That is definitely not in our budget for a single nursery item.  Instead, we'll probably go with HEAB's suggestion and get a La-Z-Boy rocker recliner, for less than half of this price.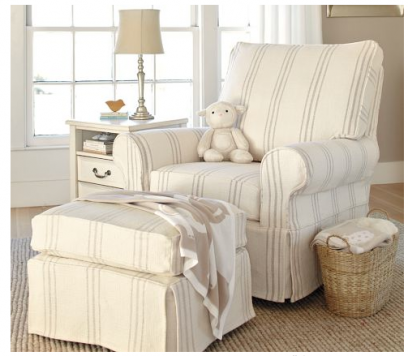 The Healthy Baby Skincare Collection from Lavanila:  I've had a hard time finding baby skincare products that are free of parabens and other chemicals.  I just read about this line on The Art of Making a Baby (she is hosting a giveaway of the products!), and it seems like a fantastic company.
Are their any luxe items on your dream wish list (baby or non baby)?