Note: I have absolutely no affiliation with either of the companies mentioned in this post.
When I was pregnant, I dreamt of the perfect rocking chair for the nursery.  You may remember that I had my heart set on a Pottery Barn glider.  We eventually splurged on it.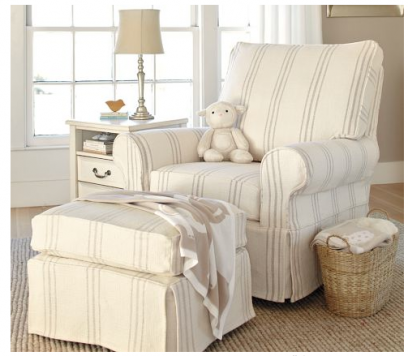 Source
That glider was a big mistake.
Sure, the pinstriped blue fabric looked great in our nautical-themed nursery.  But the first night I sat in that thing to nurse my newborn baby, I cried.  I actually cried, because after two hours of trying to get comfortable in that chair, my entire upper body was in pain because it was so freaking uncomfortable.
When my mom came to visit two weeks later, I told her how devastated I was that we had spent so much money on a chair that I dreaded using.  In no time she had that chair picked up and vowed to help us get a decent rocker.
Enter: the La-Z-Boy power recliner.
I had been told to get a La-Z-Boy during pregnancy by multiple people, but I refused to listen.  They are ugly.  They are for grandpas.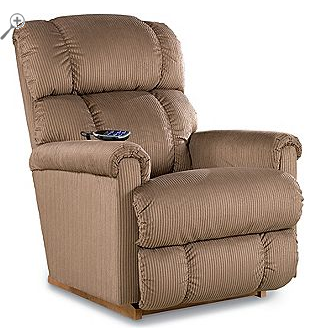 Source
You know what else they are?  COMFORTABLE!
For G's first few months, I spent many nights in that recliner.  We weren't bedsharing in those early days (I was convinced we would kill him), so Matthew and I would take shifts when our little high-needs babe needed to be rocked and held all night.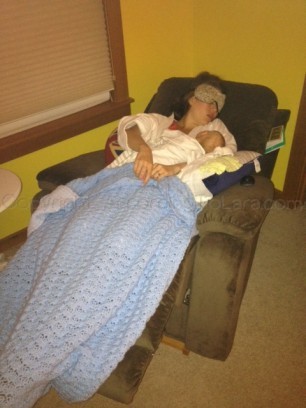 From 9pm-12am and 3-6am (my shifts!) almost every night, I would nurse and rock G to sleep.  Then I would throw a blanket over us and use the chair's remote to recline all the way back.  And then, if the stars aligned, I would catch a few z's.
After nearly five months, our sleep arrangements have thankfully changed and we are not using it nightly the way we were in the very beginning.  But this week, G has had his first cold.  The other night at bedtime, he screamed his head off the second we tried to put his head down on any surface.  The only position he seemed at all comfortable in was semi-upright against my chest, which didn't bode well for sleep for the night ahead.
So for the first night in many weeks I slept in the La-Z-Boy again, and had a surprisingly decent night of sleep (if you consider sleeping with various degrees of interruption from 10pm-4am "decent").
I know that not all babies will need mama to hold them to the degree that G has needed it thus far.  Still, I can't imagine a reclining chair not being useful to anyone with a baby.  Yes, it was expensive.  Yes, it's an eyesore.  But I know this chair will continue to be used long after G starts sleeping through the night (HA!).
What was/is your single favorite baby item?  Did you use a rocker/glider/recliner?