July 17, 2012 (36 weeks, 6 days):
I am physically, emotionally, and mentally exhausted.  In the last six days, Operation: Flip Baby has taken over my life with multiple acupuncture appointments, early morning swims, and chiropractor visits, as well as home treatments around the clock, but our ultrasound tonight reveals the baby has not turned.  My knees are bruised.  My head is dizzy.  My heart is broken.
July 18, 2012 (37 weeks):
At the hospital by 7:15am for the ECV.  The prepping and monitoring takes an hour.  I am given a hep-lock, a uterine relaxant, and an external fetal monitor.  Our nurse, Lila, had three breech babies herself.  "Breech babies are smarter," she tells me, with a wink.  I want to hug her.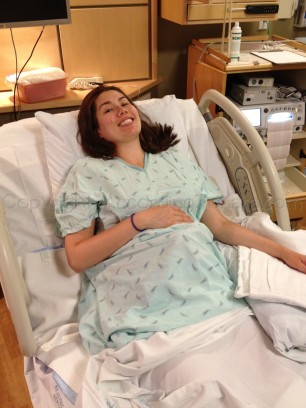 Dr. G comes in.  I realize now how young and pretty she is.  I somehow overlooked this at our last consult.  She seems softer around the edges today, and I notice her nails are painted a sparkly, Barbie pink.  In a matter of minutes these nails will be digging into me as she forcefully tries to turn the baby for the first time.
This hurts.  Like, holy shit, this hurts.  I practice my breathing and hold Matthew's hand, and Lila rubs my arm reassuringly.  Dr. G stops and checks the baby's heart rate.  "I'm going to try again the other direction if you're up for it," she says.  "Yes, do it," I say.
This time she goes clockwise.  "You're doing great," says Lila.  Yes but is it working, I think.  Dr. G stops again to check on the baby.  He's fine, but no dice as far as movement.  "I think I had better luck the other way," she says.  "Do you want me to go again?"  "Again," I nod.
I can tell this isn't working or it wouldn't hurt so much.  This is nothing like the videos I saw online, where the women are lying there peacefully as the doctor gracefully slides their baby back into place.  This feels unnaturally forceful and tight.
"I think we have to call it a day," says Dr G with a sigh, and I'm already crying.  Lila steps in and tells me the pain will feel like a bruise for a few days, but it will go away.  She thinks I'm crying from the pain.  If only.  "I really thought it would work," I heave.  "It's great when it does," says Dr G.
We have to stay another hour for more monitoring.  We're in the birth center, which I suddenly realize is painfully ironic.  A woman in the room next door is in hard labor.  Second stage, pushing, from what I can tell.  I always thought it would sound barbaric and weird to hear another woman pushing her baby out, but this is surprisingly beautiful and I find myself rooting for her silently, caught in a bittersweet trance.
Dr. G comes in.  "Let's schedule your c-section," she says.
And the trance is broken as I realize this might be the closest to pushing I ever get.
***