Dear Baby G,
Slowly, maybe a little slower than some of your peers, we are getting into a routine.  I haven't wanted to push you too much because, well, you're pretty new to the planet.  As much as I love routine, I think you deserve a little time to adjust to life as a human before I press my neurosis upon you.
We've come to an understanding, the three of us, that you won't be sleeping for more than a few hours at a time until you are darn well ready.  I fought you hard for those first few months, because frankly, it shocked the hell out of me.  But there has been a shift.  I realized that while Mommy and Daddy are exhausted, you are thriving.  You are just fine.  You're just being a baby, which is kind of your job.  And if you taught me anything while you were breech in utero, it's that I can throw money and experts and techniques at you all I want, but you will do things in your own time.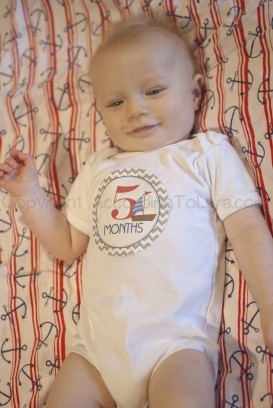 Every night, Daddy changes you into your PJs, puts you in your sleep sack, and reads you a book.  Then I come in and you nurse, and if we're lucky, you will sleep for three or four hours in your own room.  After that, kid, it's a circus.  You're up every one, maybe two hours.
Usually around  your 5am wakeup, Daddy will bring you to me if you are not already in bed with us. Lately Daddy has been going to sleep in another room around this time  so you and I can have more room in the bed. A man named Sigmund Freud would have a FIELD DAY with this, but I don't care.  This is our special time.
I nurse you in the dark in hopes that you'll fall back asleep. You rarely do. Instead you lie next to me and smile and babble and coo, and I can't help but nuzzle my face into yours and give you butterfly kisses.  Sometimes it moves me to tears.  It moves me to tears because, kid, I haven't slept more than a few hours at a time since you've been born, and if you could make this special time at 6 or even 8 am, that would be really great.
Our faces touching, I whisper "time to go back to sleep," while simultaneously trying to shove a pacifier at you.  You reject said pacifier by flailing your head from side to side with sealed lips. I give up on the binky and just lie with you next to me until you fall back asleep, by which time I am wide awake.
I drift off to sleep again right as you wake up, usually around 6 or 7am. This is when Daddy gets up for the day so he will come get you while I try to get another hour or two of sleep before he leaves for work.
So that is our little morning ritual.  I believe I once wrote that everything is worse in the dark, but those moments together right before the sun comes up have proven to be the exception.  I actually love our dark mornings.  Maybe it's because I know the day ahead is always bright.
I love you,
Mama.