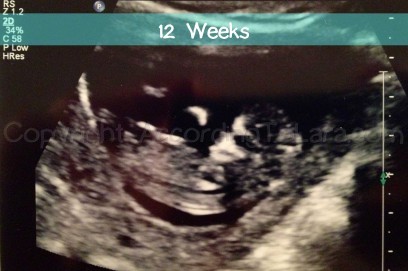 I am 14 weeks pregnant today!  Depending on which resource you consult, this is the beginning of the second trimester.
Despite doing my fair share of research and speaking casually with friends and family members who have children, I was still rather blissfully unprepared for some of the realities that my first trimester of pregnancy would bring.  Here's a quick breakdown of my experiences thus far.  Though I am well aware that "every pregnancy is different, " maybe this can help someone out there feel a little more prepared.
The Good
I'm feelin' the love.  It's like I'm trapped in the movie Love Actually:  love is everywhere.  I've heard from people I haven't spoken to in years, wishing us happiness and health.  Family and friends have shown an outpour of joy and enthusiasm.  But more than just receiving love, I am hyper-aware of it being all around me:  from those damn Google commercials to the exhausted but oh-so-patient mother of a screaming toddler at the grocery store.  I feel an immediate kinship with any woman who has ever been pregnant and, with an anticipation of everything ahead of me, a respect for mothers everywhere on a whole new level.
A renewed relationship with food and my body.  I have spoken recently about the time I spent last year reconsidering my thought patterns and habits with diet and exercise.  Pregnancy has dramatically enforced my belief that intuitive eating is possible and even necessary.  For the past 9 weeks, I have been more or less forced to listen to my body and do what it wants, regardless of my own will to binge or restrict.  It has been immensely freeing and thus far, without negative consequence (I actually lost weight last week despite a diet of Eggo waffles, macaroni & cheese, and cereal, which brings me to my next subject).
The Bad
Morning sickness.  I was confident I had escaped morning sickness until, during week 7, I woke up with what felt like the worst hangover of my entire life.  Ladies, take note: "morning sickness," is one of the English language's grand misnomers.  It is not just in the morning, and (for me at least), it's not just a little nausea.  It encompasses a myriad of sickly feelings that collectively add up to feeling like crap, or that you could lose your lunch at any time.  This is coming from someone who, I have been told, is only experiencing mild to moderate morning sickness.  I had five rough weeks after Christmas, with an odd yet potent revival period that started in week 13.  My advice?  Buy a bucket and keep it handy.
Lower back pain.  This started around week 10 for me and is not letting up.  It's centered around my tailbone and can become rather severe at times.  The doctor tells me it's because everything is readjusting in my pelvic area.
Acne/dry skin.  I specifically remember that my big sister's skin radiated with health when she was pregnant, which is why it's been especially harsh to see that mine has reverted back to the breakouts of my adolescence, while also getting grossly dry and flaky around my forehead.  Hmm, maybe this has something to do with the mac and cheese…
Cramps.  Cramps during pregnancy have been infuriating to me, because some are normal and some are not.  This makes it difficult to discern when to freak out.
The Ugly
Exhaustion and anxiety. This is no joke.  When people told me I'd feel tired, I didn't really understand the depth of exhaustion they were referring to.  Taking a shower and washing my hair now requires a sit down break before I have the strength to dry my hair and get dressed.  I have suffered worse from exhaustion than I have with morning sickness.  As for the anxiety, I'm an anxious person to begin with, but it seems that pregnancy hormones (or perhaps just the exhaustion) have exacerbated my worried mind.  I'll expand on this in a future post.
Pityriasis rosea.  While this is a common skin condition under normal circumstances, I am told it does not commonly occur during pregnancy, and for about three weeks, I was terrified (and itchy) after reading the results of this study linking it to an increased rate of miscarriage.  You see, not much research has been done on pityriasis during pregnancy–so little that my case was a bit of an anomaly at the University of Washington.  I'd meet with a nurse and she'd say, "Oh!  You're the pregnant woman with pityriasis?!"  It took four doctors to diagnose it, and all of them agreed: there was nothing we could do but wait.  After three weeks, it cleared, and everything seems normal.
Crazy mood swings.  Before we knew that I was pregnant, Matthew said he first suspected it when I cried because my creamed spinach came out of the microwave cold.  Actually cried.  Over spinach.
It's been a bit of a rough start, but I am lucky right now that my schedule is flexible and I no longer have the demand of being in an office.  I am grateful because I know not all expectant mothers have this luxury.
While everyone assures me that the second trimester will bring renewed energy and less nausea, at the moment I remain skeptical.
Mothers, what was your experience with your first trimester?